Interest on late payment!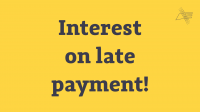 According to the Rector's Ordinance no 9/2021 dated on 3rd February 2021
delay in paying any fee results in charging statutory interest for the delay.
Additionally students will be charged the fee for sending a written request for payment by the University.
In connection with the above the students who paid
the fees for repeating the classes,
after the deadline are requested to check on their personal USOS accounts the amount of interest
and to pay the debt.