iWeek – an extraordinary week in Paris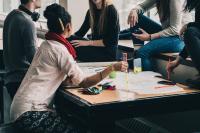 Apply and take part in iWeek – an international program for IT and computer science students!
For the last 15 years eFrei Paris has been organizing an international week for IT and computer science students from international partner universities. As Erfrei Paris has a network of nearly 90 international partners in more than 30 countries, iWeek program ia a great opportunity for IT students from all around the world to meet each other, to discover Paris and enjoy its students' life.
This year the iWeek program will take place from Saturday March 10th to Saturday March 17th 2018. The participation fee for international students is only 80 EURO* and following servieces are included:
Airport pickup and transportation in Paris
Accomodation
Breakfast, lunch and dinner every day
Sightseeing in Paris
A cruise on the Seine river
Participation in numerous social and cultural events
Participation in the Efrei Paris international fair
*Students have to cover for their international transportation and travel insurance
Students can apply online until the 15th of January 2018. The number of participants is limited, the iWeek organizing team will select the candidates and confirm participation by the end of January 2018.
For more information >>VISIT THE WEBSITE