SAR radar in Poland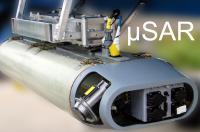 What's te microSAR (μSAR)? This is Poland's first miniature Synthetic Aperture Radar (SAR) with such a high resolution designed for small flying units (including unmanned platforms).
The microSAR system allows the imaging of the Earth's surface regardless of prevailing weather conditions, even in invisibility scenarios.
Financed by the National Centre for Research and Development, this project was developed by the Institute of Electronic Systems of the Warsaw University of Technology in a consortium with the Air Force Institute of Technology from Warsaw, Poland.
Want to know more? Watch the movie!