The call for international student projects ME310/SUGAR and Challenge Based Innovation (CBI) is underway!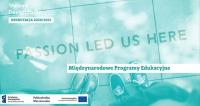 Projects are a great opportunity to supplement or strengthen knowledge and skills with aspects such as work in international and multicultural teams, creativity, deep understanding of the real needs of users, effective work at distance, design thinking, rapid prototyping, budget management.
It is also an opportunity to get to know personally and get inspired by interesting people from various academic and research centers around the world, and finally to make new friends and develop your network of global contacts.
Everyone is welcome, especially people with an interest in analytics, Big Data, AI.
Documented participation in projects will make it possible to apply to the faculty authorities for recognition of the learning outcomes achieved in the form of points ECTS or Diploma Supplement achievement entry.
A webinar on the details of the project is planned for the Facebook event on October 5, 2020.
More information via the Facebook page or email contact with the program coordinator: PhD Mariusz Kaleta, mkaleta@elka.pw.edu.pl.
We encourage you to take advantage of this opportunity!