Anton Yahorau, Nozimbek Abdugofurov, Xiaohan Wan won Huuuge Game Jam 2022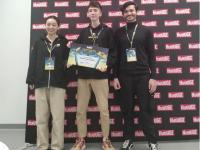 Our students won Huuuge Game Jam 2022. Their project SLAAAYm was the best!
JUICY team, which consisted of three our students (Computer Science, Bachelor Degree 2nd year);
Anton Yahorau,
Nozimbek Abdugofurov,
Xiaohan Wan
developed and presented the best computer game during Huuuge Game 2022 competition organised by SWPS University of Social Sciences and Humanities, AWS, Google Cloud.
"The Game Jam theme was "Growing Things". Having heard this topic, the idea immediately comes to mind to create a game related to plants and the like. When it comes to our team, we decided to be more original and come up with something unusual. We came up with a concept of a slime-like creature that would be constantly growing. But not only the slime would grow. The whole map would grow while the slime grows. And the enemies would grow in a growing map in which the slime grows" – says Anton Yahorau.

The roles in JUICY team were quickly divided; Nazeem was responsible for all the music in the game, Xiaohan was responsible for all the artwork in the game and Anton was responsible for the creation of the game, gameplay and basic mechanics. He stitched all his teammates' work together.

Since they have only had 24 hours, they decided on a topic swiftly and immediately got to work. While Anton was doing the level design, Nazeem was producing music that would suit the game, and Xiaohan was making concept art of the slime and environment. Step by step our team managed to make a full-fledged game in just 24 hours. They had a main menu, a plot, interesting gameplay, and final screen. Thanks to Nazeem our game had a catchy main menu music, several level soundtracks, and slime movement sounds. The whole game looked very stylish and atmospheric thanks to Xiaohan's illustrations. Not only did she draw the main character and its animations, but she also drew the enemies, backgrounds, platforms, and a huge amount of small details. They finished it quite some time before the deadline, so Anton decided to make a trailer for the game, which would describe the main idea: https://youtu.be/FCMi0NVBfHU

"Honestly, we came to this competition just for the sake of gaining new experience and we didn't even have any hopes that we would win. But over the course of our game's development, our confidence in the team and success of the game grew exponentially. It's really great that we, having no experience in such competitions, could work together so well and were 100% confident in our project" – add Anton Yahorau – "We were as happy as we were exhausted when we were announced as winners and took first place in Game Jam. This has given us an incredible amount of motivation and drive to move forward in the game industry".