Researchers from the Institute of Electronic Systems of the Warsaw University of Technology in EuPRAXIA project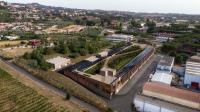 A team of researchers from the Institute of Electronic Systems
of the Warsaw University of Technology participates in the preparatory work of the EuPRAXIA consortium.

EuPRAXIA is the first European project that develops a dedicated particle accelerator research infrastructure based on novel plasma acceleration concepts and laser technology.

The European plasma accelerator community has received a major impulse for the development
of a user-ready plasma accelerator facility with the funding of several multi-million euro initiatives under the umbrella of the EuPRAXIA project. These are EuPRAXIA Preparatory Phase, EuPRAXIA Doctoral Network, and EuPRAXIA Advanced Photon Sources, as well as funding for the construction
of one of the sites of EuPRAXIA in Frascati, near Rome.

The EuPRAXIA project aims at the construction of an innovative electron accelerator using laser-
and electron-beam-driven plasma wakefield acceleration that offers a significant reduction in size and possible savings in cost over current state-of-the-art radiofrequency-based accelerators.

The EuPRAXIA project started with a Design Study, which was funded under the EU Horizon 2020 programme, and culminated at the end of 2019 with the publication of the worldwide first Conceptual Design Report for a plasma accelerator facility. EuPRAXIA was then included in 2021 in the European Strategy Forum on Research Infrastructures (ESFRI) Roadmap, which identifies those research facilities of pan-European importance that correspond to the long-term needs of the European research communities.

Now the EU and the UK Research and Innovation Guarantee Funds have awarded 3 M€
to the EuPRAXIA Preparatory Phase (PP), which comprises 34 participating institutes from Italy, Czech Republic, France, Germany, Greece, Hungary, Israel, Portugal, Spain, Switzerland, United Kingdom, USA and CERN as International Organization.

The new grant will give the consortium a unique chance to prepare over the next four years the full implementation and realisation of EuPRAXIA. The project will fund 548 person-months, including additional funding from UK and Switzerland, and will be supported by an additional 1,010
person-months in-kind. EuPRAXIA-PP will connect research institutions and industry from the above countries plus China, Japan, Poland, and Sweden, which had signed the EuPRAXIA ESFRI consortium agreement.
More details attached: