ENHANCE workshop online learning and teaching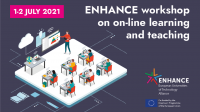 WUT organizes the international online workshop for academic teachers on online learning and teaching. The workshop will be held as part of the activities of the ENHANCE. The topics will include the organization of distance teaching, assessment, forms of online education, the role and types of IT tools supporting online education.
Visit https://workshop.enhance.pw.edu.pl/ and learn more about the event.