Interstudent 2021 – looking for the best foreign student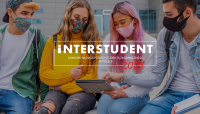 We invite you to submit candidates from WUT!
International students at WUT represent several dozen different nationalities. Many of them are great students that get involved in various social, cultural and sports activities – and they have a chance to be rewarded in the Interstudent 2021 competition.
The Interstudent competition is open to all foreign students studying Bachelor, Master and PhD levels (in English or Polish as the language of instruction). The competition seeks to distinguish the "university leaders", who contribute to the integration of Polish and International students the most building bridges between cultures and enriching Polish academic environment.
Candidates may be nominated by a rector, dean, international officer, student organization or simply by friends of a deserving student. The Questionnaire is available here. The deadline for applications is January 20 February 10, 2021.
The official results of the competition will be announced during the online conference.
For more information please visit studyinpoland.pl».