BURST YOUR IMAGINATION! Rethink possibilities of AI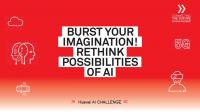 Huawei AI CHALLENGE is a programming competition organized by Huawei and addressed to students of Warsaw University of Technology in the fields of telecommunications, IT and electronics.
The willing participants are required to create the teams of 2-3 people
and by December 10, 2019, send the completed application form to the address: AIchallenge@huawei.com.
Application form:
The official inauguration of the competition will take place on December 12, 2019. During the event,
a Huawei expert will present the rules of the competition and the possibilities offered by the HUAWEI HiAI development platform. Using it students will prepare competition applications, which will have to be sent to the jury for evaluation until March 9, 2020. During the competition, each team will have the opportunity to meet Huawei experts who will share their knowledge and answer bothering questions.
Official Awards Gala will take place on March 13, 2020. The authors of the three best applications
will receive valuable prizes: Huawei smartphones and gift vouchers.
The language of the Huawei AI CHALLENGE competition is English.
Competition schedule:
| | |
| --- | --- |
| 07.11. | - beginning of accepting team entries for the competition |
| 10.12. | - end of acceptance of team entries for the competition and communication with the teams |
| 12.12. | - official inauguration of the competition |
| 08.01. | - first consultation of teams with Huawei experts |
| 31.01. | - second consultation |
| 27.02. | - third consultation |
| 09.03. | - end of accepting applications and the beginning of the work of the Jury |
| 13.03. | - Official Awards Gala |
Competition regulations