WUT Christmas market!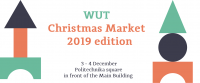 The market will take place between 3rd and 4th December, 2019.
The Politechnika square in front of the Main Building will change into
a small Christmas village with traditional Christmas tree and a very special stand with WUT gadgets - for the fifth time.
The whole idea of the event is that the visitors will make donations and get gadgets (such as classic WUT socks, eco-bags, travel mugs, beanies) in return. All money raised will go to fund Christmas Scholarships for students that promote science and their University.
Last year we managed to raise 28 222,50 PLN!
Whether you are a student, alumnus, faculty, staff or a resident of Warsaw at large, do come
and join in!
More details can be found on FB»